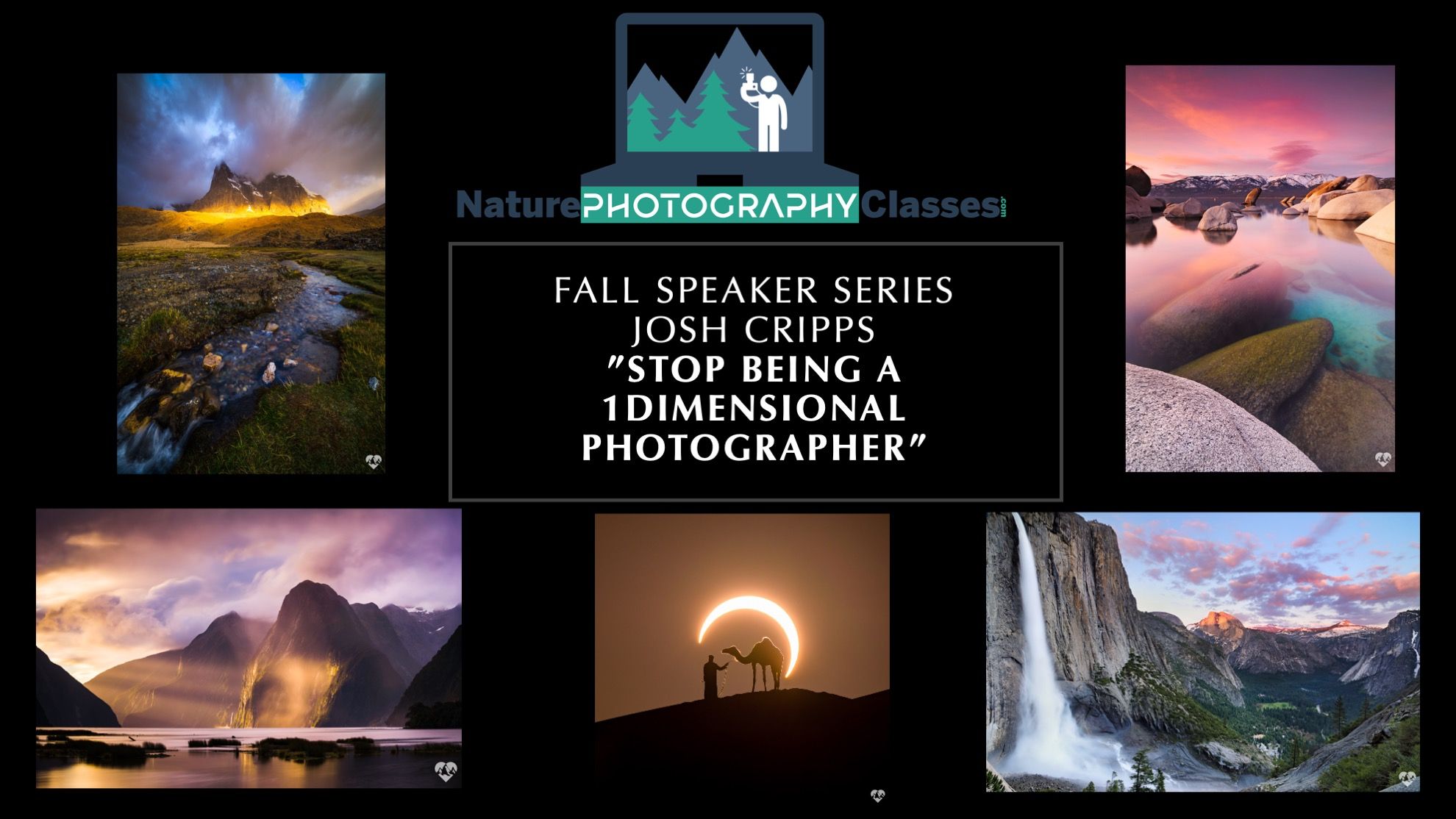 Getting to know Landscape Photographer Josh Cripps
Nov 10, 2022
The next speaker in the Fall Speaker Series https://www.naturephotographyclasses.com/speaker-series is my friend Josh Cripps. I found Josh's YouTube channel early on in my photographic journey and appreciated the balance he brought of humor, technical chops, and experience. I later met Josh at a PhotoPills class on night photography in July of 2017 and kept in touch swapping stories about the Sierra.
Josh and I backpacked together in March of 2021 in the Maze District of Canyonlands where I got to know him, his struggles, triumphs, and creative thoughts. I am really excited to have him join us as part of the Speaker Series and for those of you unfamiliar with Josh or his work to get to know him a little.
What is the most important lesson you have learned in your photography?
To let go of expectations. Most landscape photographers start out simply wanting to share their outdoor experiences with others. Then we slowly move to a point where being outdoors is less about being in nature, and more about getting the shot. In my opinion, when your photography becomes all about the image, it is one of the most expectation-driven and results-focused kinds of outdoor experience you can have. In addition to being an unhealthy way to experience the outdoors, with this mentality you are setting yourself up for major disappointment when the light, the scene, or the conditions don't conform to getting the shot you want. Think about that for a second: being a nature lover and being disappointed to be outside. Kind of a contradiction, eh? Instead, if you can move back along the path to the point where our photography becomes an extension of your experiences outside, instead of the reason for them, then the photographic process becomes much more satisfying and healthy. When you get rid of your expectations of what you are supposed to shoot, it opens your mind to what is actually present in the moment. And it allows you to tell an authentic story of a place, instead of one that has to fit in a little box you've already preconceived in your mind.
What is the most memorable scene you have captured?
Ayyy, where to begin?? I could give you a list of 10 stunning sunsets I've seen along the California coast, or 10 times I've watched the moon set over some jagged mountain. I could talk about the moments of panic, frenzy, and pay-off of photographing an annular eclipse in the middle of the desert in the Empty Quarter, UAE. But if I had to pick one single moment, I'd go with a clearing thunderstorm in the Gardiner Basin, Kings Canyon National Park. It was one of those days when you could tell by the amount of clouds already in the sky by 10 am that the storms were gonna be rough. All day as I hiked the skies got darker and more menacing. I had a singular destination in mind, the Gardiner Basin, but to get there meant a fair amount of cross country travel directly toward the darkest clouds in the sky.
When I reached the cross-country pass leading into the basin, I expected to see a Shangri-La of granite magnificence. Instead, all I saw was an endless stretch of refrigerator-sized blocks of talus. It didn't look aesthetic at all, nor was there a single blade of grass, let alone a flat spot to pitch a tent. I'll admit that I felt deflated at that point. But with the storm crescendoing, I had to make a decision: retreat back the way I came, or continue into uncertainty and drop into the basin in front of me. With hail and lightning nipping at my heels, I chose the basin.

I was in a bad mood quite frankly, and the 1-mile journey across the talus stretched on interminably. But 1.5 hours later, as I reached the edge of the talus, things began to change: the valley opened up into a series of infinity pools and waterfalls, each with a spectacular view of the aesthetic north flank of Mount Gardiner. The sky began to break, and light filtered in through the clouds. Even my mood itself, which was very grumbly up to this point, reversed course and I began to get little kicks of joy as blue patches appeared in the sky. That joy soon turned to pure wonder and amazement as direct sunlight lanced into the basin, striking the rain to the east, and creating a double rainbow that had the intensity of a laser. The rainbow persisted for a full 45 minutes as I ran around laughing my head off, shouting with glee, and of course, snapping dozens of photos.
The sunset that night was also incredible, worthy of any top-10 list of Sierra lightshows. But for me, the sudden and blinding appearance of that rainbow, after a tough and stormy day, was the moment etched into my memory.
Who inspires you to create?
Lately I've been incredibly inspired by my friends and colleagues who practice and preach "slow photography" and "shoot from the heart" photography. There is so much pressure online to shoot and share the most eye-catching bangers possible. I greatly admire those people who are able to resist this temptation in order to shoot purely for themselves, and to explore the world on their own terms and not for the sake of external validation. It's a refreshing reminder to stay true to your vision.
What is next for you on your photographic journey?
I have three huge projects in the works. They're all a bit secret at the moment, but here are a few hints as to what they involve: 1) Big prints 2) Big guided experiences 3) Big hikes. All will be revealed soon!
Stay Connected with News and Updates!
Join my mailing list to receive the latest news and updates from me. Choose the topic you are most interested in and I'll focus on sending you personalized content. Don't worry, your information will not be shared.
We hate SPAM. We will never sell your information, for any reason.